COLOR TRENDS
Norwalk identifies emerging textile trends to share these inspired themes with you.
---



Decorative schemes that feature shades of black and white, accented with a bold third color, are chic, modern, and endlessly flexible. For Spring 2023 Norwalk is featuring several vignettes that explore the variations of this theme. Anchored with base cloths of snow and charcoal, salt and licorice, or ivory and onyx, each group gets its rosy color punch from a dash of flamingo, cameo, or blush. Furniture in these vignettes tends toward the contemporary, while Cocteau-esque smiling faces add a major touch of whimsy.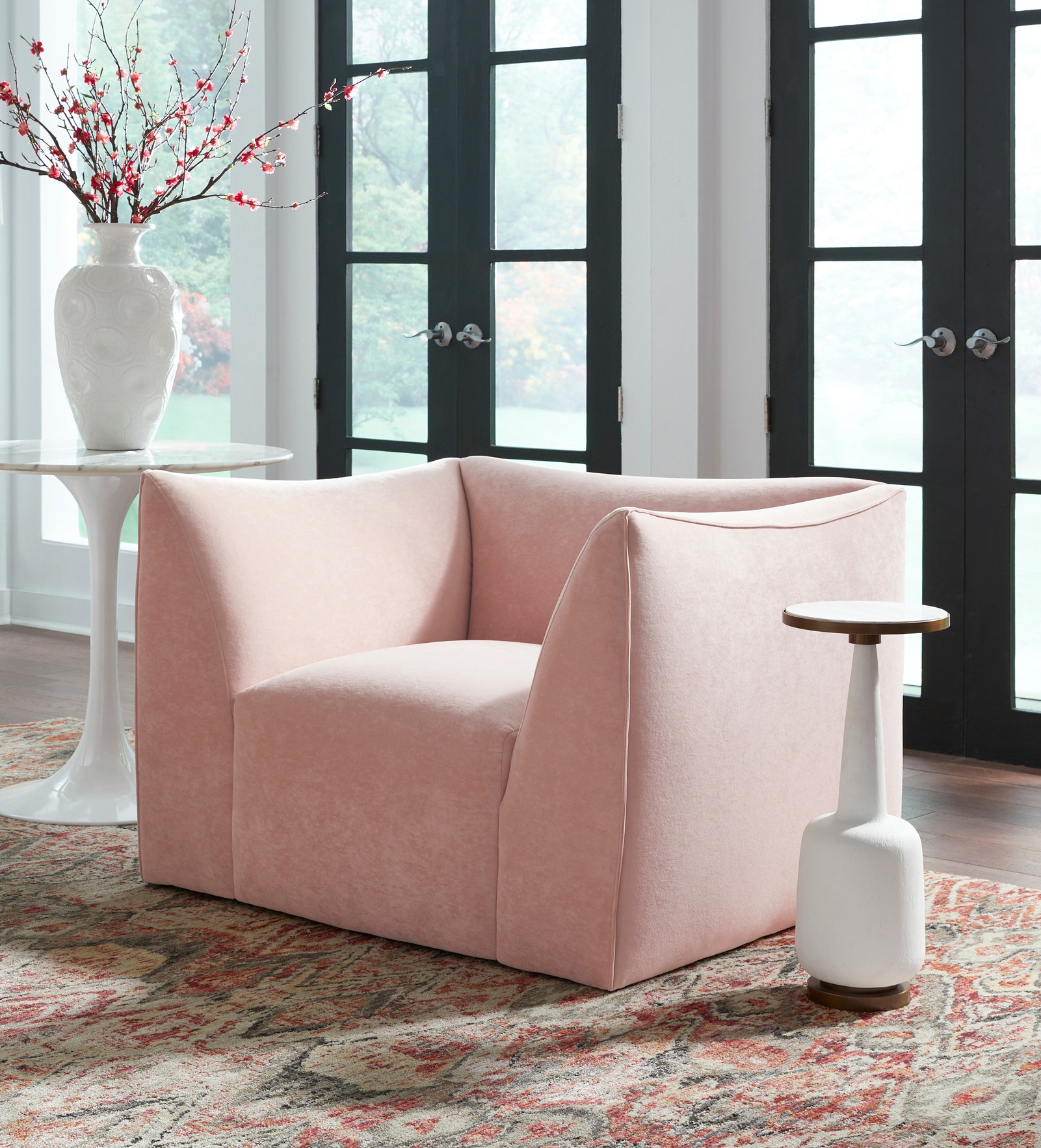 Summer is just around the corner, as our hearts turn to thoughts of distant beaches. In these groupings Norwalk features base cloths in taupe, khaki, and biscuit. These deepened ecru shades are a rising trend in home furnishings as the pallet warms away from the cooler greys and bright whites. Supporting our beachy theme, accent colors of cerulean, pine green, Aegean blue, and even a touch of lilac add vibrancy to the mix. Look for the introduction of a super fun giant-wale corduroy in these groups.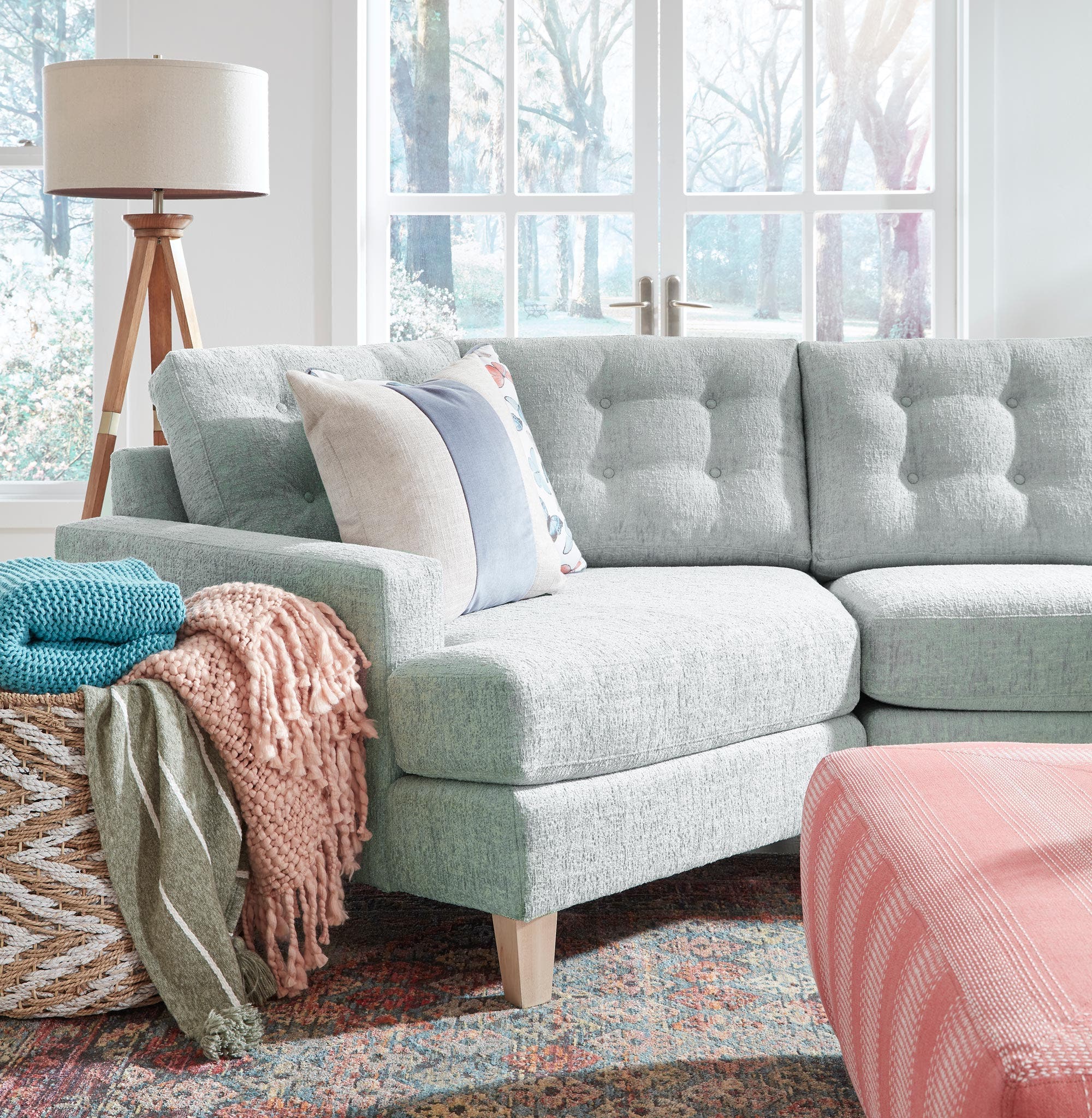 Nature derived color tones are a decidedly rising trend. We've seen shades of clay, green, and brown all moving forward in home furnishings décor. For Spring 2023 we're showing three vignettes that explore the deeper tones of mocha, shitake, and oyster for an earthy color mix. Boucle and chenille constructions add texture and a soft hand to these groups. Dark obsidian gives boundary and definition to these deep neutral tones, while touches of dove grey lighten the decorative pallet.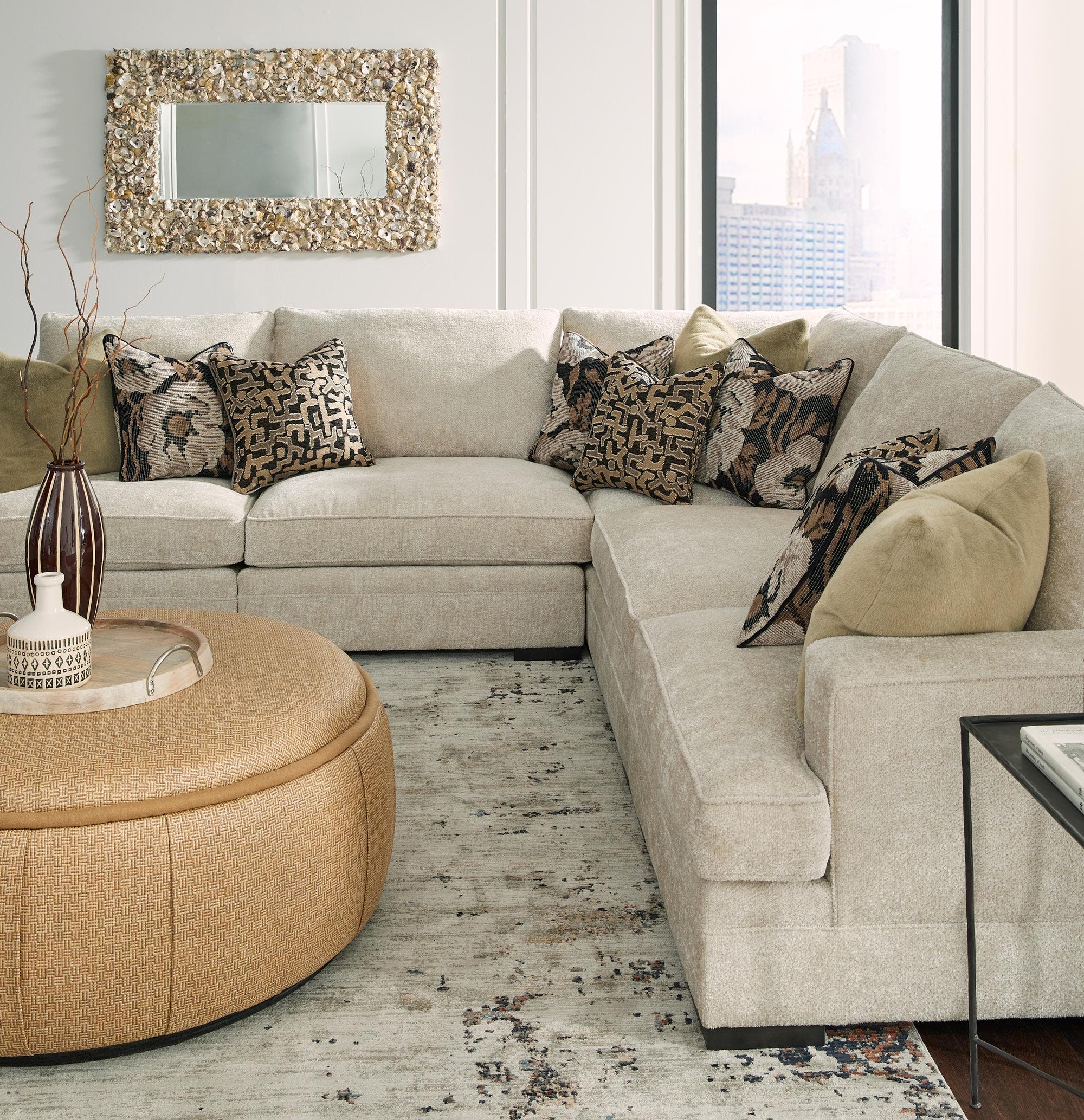 The many shades of blue are perennially popular for home décor. For Spring 2023 we are featuring blues that are anchored with a soft grey undertone. Slate blue, harbor blue, and ice blue are all descriptive names that describe not only the color, but the restful, tranquil tone of these hues. Perfect for a Zen vibe, these shades of blue are equally at home in a bedroom or quiet sitting room. On-trend coral accents give a touch of deeper color and energy to these groups, while tigers, butterflies, and happy faces add a "smile" to each of these vignettes.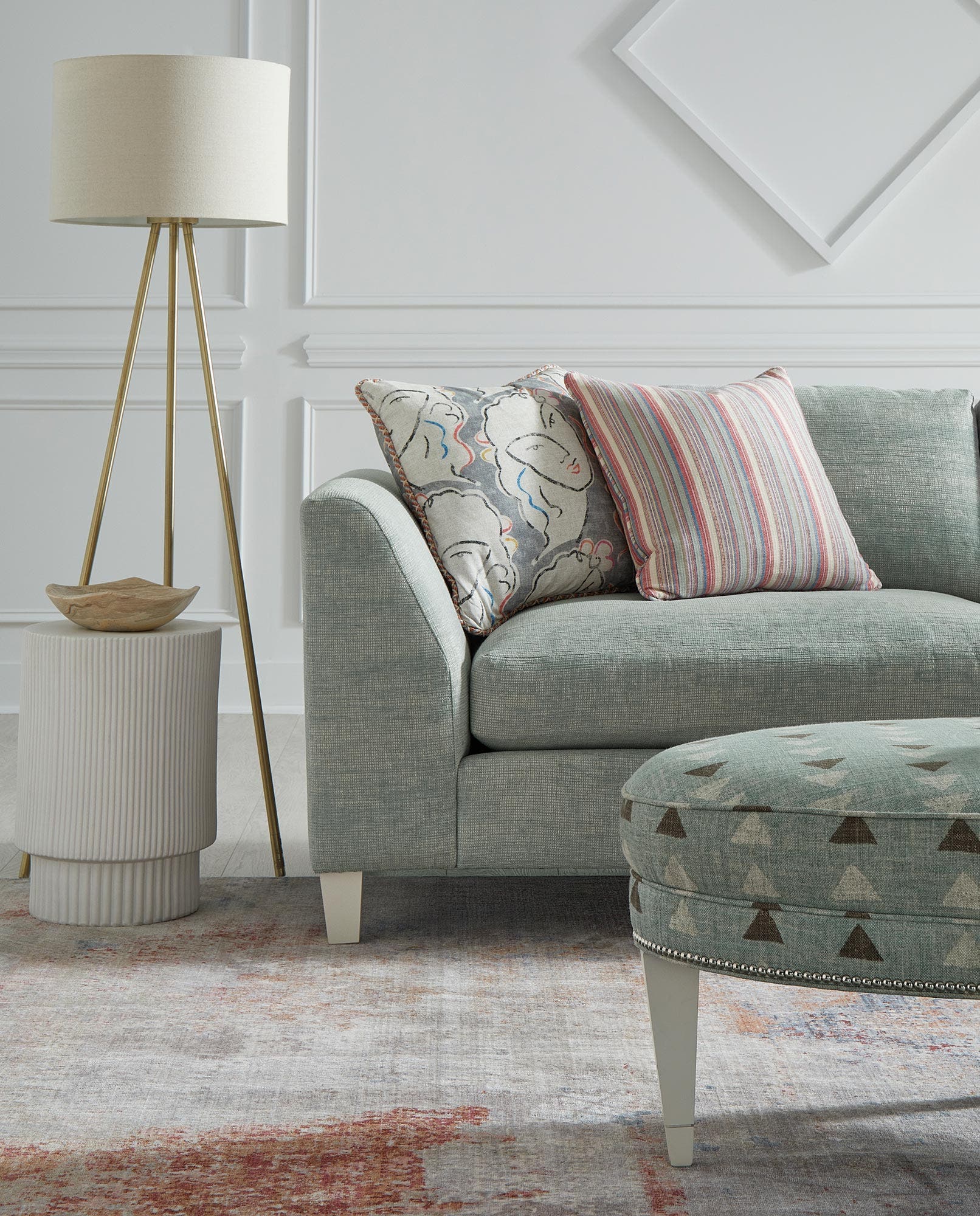 ---
Shades of Camel and Caramel have been a home furnishing rising trend for several years. For Fall 2022, Norwalk Furniture introduces a menswear element into this rich color family. By adding classic wool plaids and tartan fabric patterns, and accenting the secondary colorways with luxe grey flannel and gingerbread browns, the whole collection takes on a warm, earthy, and familiar vibe. Think "Ralph" and "Polo" and you'll understand why this trend story is at once fresh, yet comfortably familiar.


---
We are all familiar with the hues of Spa Blue, and Sea Green, but for Fall 2022, Norwalk Furniture combines these hues into a spa-green collection of fabrics that are conspicuously restful and serene. Soft verdant color tones and organic shaped fabric patterns merge in a tranquil mix that features celadon, shagreen, and chive greens. They are accented with robin's egg and Tiffany blue coordinates, and grounded with dove grey, for a color story that is decidedly restful and calming.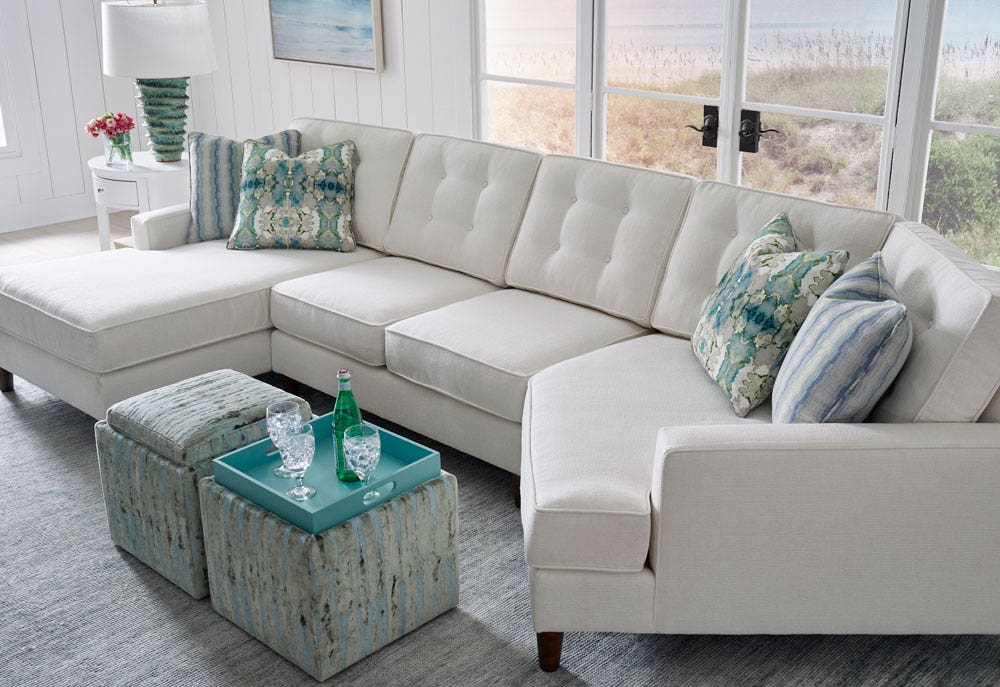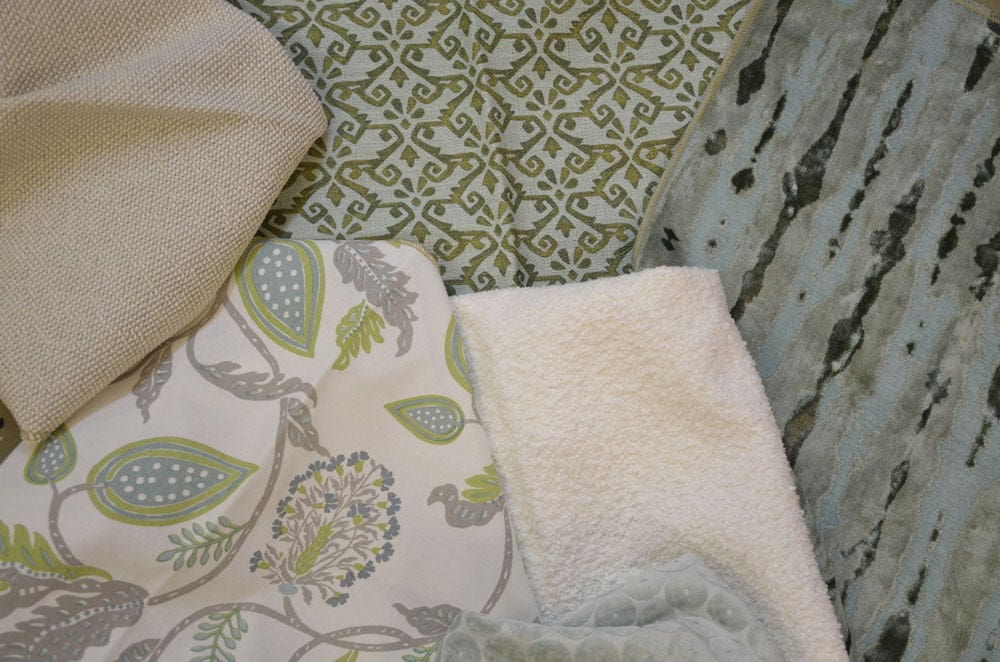 ---
For many years the classic Navy/White color combination has been an American favorite. For Fall 2022 Norwalk Furniture updates this look with accents of black and leather complements. The inclusion of midnight indigo design elements offset the white background colors in a very dramatic way. And they give the look a dramatic and rich atmosphere. Cobalt and sapphire leathers, and fabrics that feature graphic vanilla lines, add energy and movement to this undated timeless aesthetic.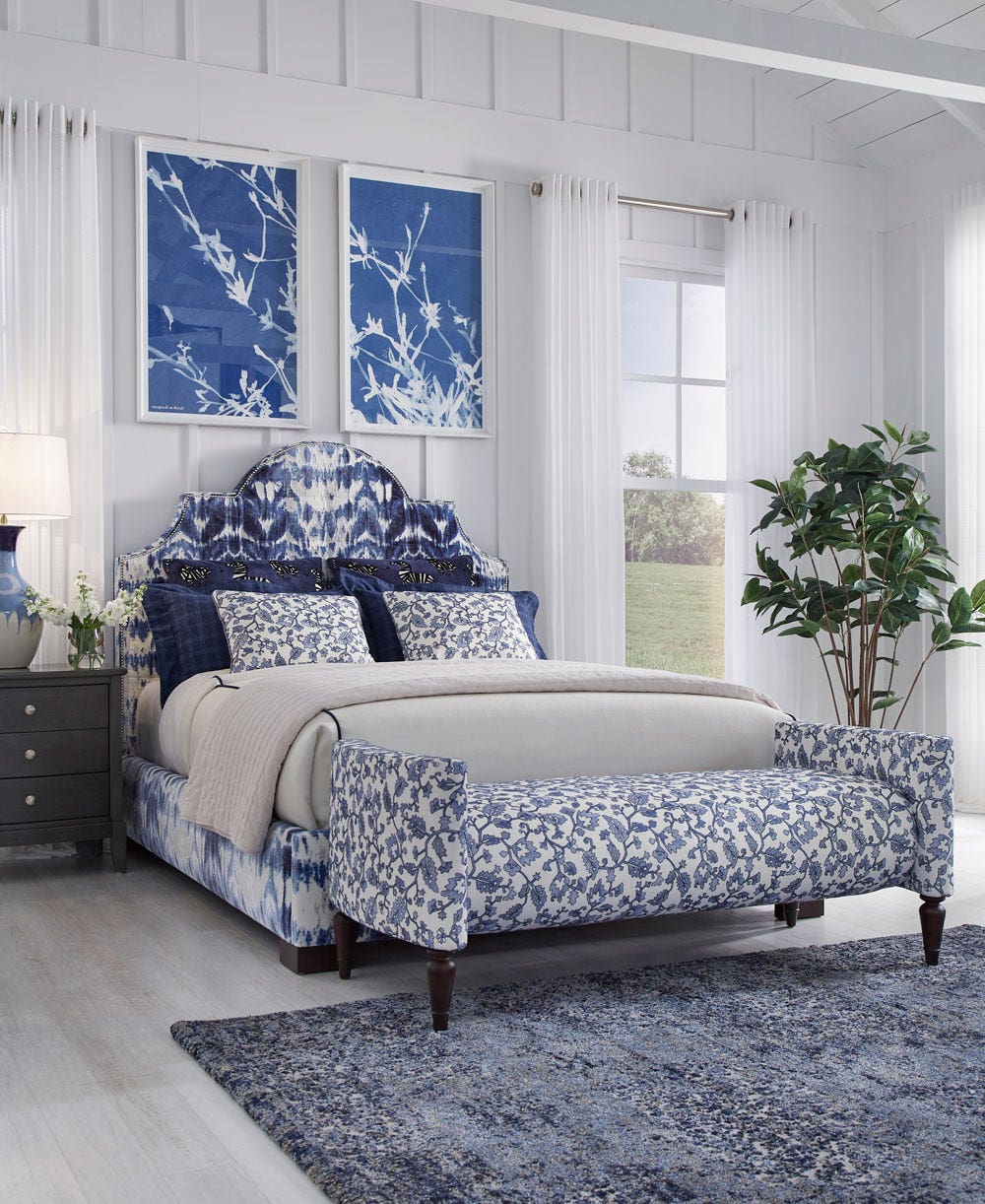 ---
Many a tasty meal features wild caught salmon. It's rich texture and rosy-pink ink color is a feast for the eyes and taste buds. For Fall 2022 Norwalk Furniture features a collection of multiple fabrics that explore the nuanced shades of salmon, peach, and coral. Ranging from a shell pink to a mid-toned apricot, the collection utilizes unexpected accent colors of wheat and honey to deepen the pallet and warm the vignettes. The collection includes varied linen, chenille, velvet, and boucle fabric textures. This color story would be a perfect complement to Sherwin William's just announced color of the year, Redend Blush.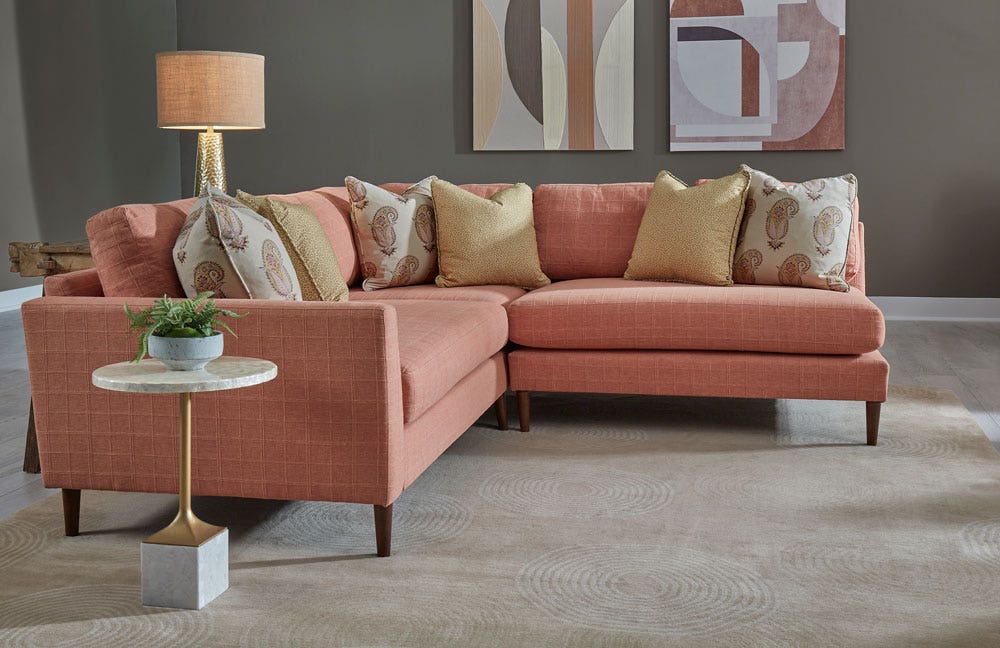 ---
Earthy shades of clay have been on trend for several years at this point, and the complementary accent colors of blue, russet, and sage have been well explored within the furniture industry. For 2022 we feel that the clays are a bit less red or brown, but rather they tend toward yam, ginger, and cinnamon shades, with a soft rosy undertone. These colors are beautifully mixed with nut toned leathers and they combine for a decidedly tranquil colorway that's evocative of desert and arid environments.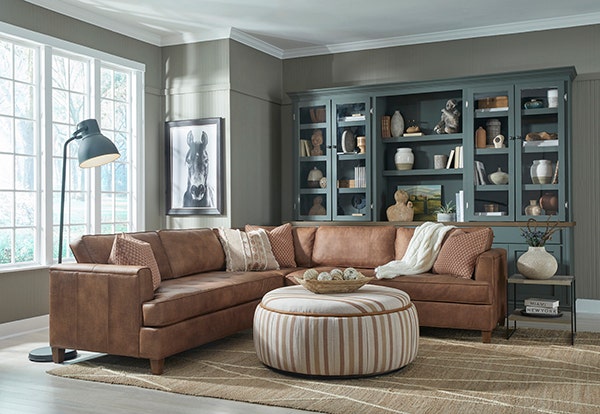 ---
---
Lush greens in hues of grass, palm, and asparagus take the lead in this colorway that adds dashes of tangerine for an all-important pop of contrasting color. The many shades of green have had a considerable resurgence in the past three years, as they have varied from deep emerald to bright chartreuse. For spring 2022, the pallette tends toward nature inspired greens that are neither too blue, nor too yellow; and they mate well with soft khaki shades of sisal and rattan for a mildly tropical vibe.


---
---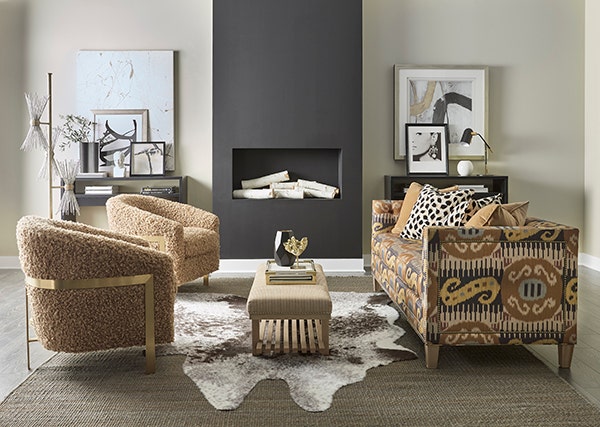 With contrasting tones of butterscotch and onyx, Norwalk's Tigers Eye color trend evokes a slightly exotic mood. While ivory and eggshell ground covers anchor the trend, warm honey and butter hues give this colorway a subtle animalistic undertone. Be on the lookout for bees, tigers, giraffes, cats, and sheep. The inky accents add a crispness to the softer mustard hues that carry this colorway.